Here's the latest updates on the development of my Vive VR game
Eye of the Temple
.
New additions:
Fire! One challenge tunnel now has fire hazards.
Blades! One challenge tunnel now has swinging blades.
Speedrun mode! A more challenging way to play the game. More notes below.
Hat! You're now wearing a hat. Hope you like hat.
Experimental spectator camera. 3rd person view. More notes below.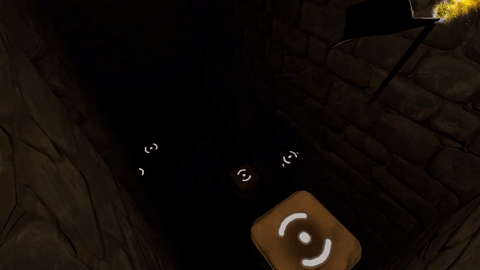 Field of view is now restricted when close to falling and when falling in order to further reduce risk of motion sickness.
Placeholder ambient soundscape taken out of the game for now since it had confusing footstep sounds.
Speedrun mode
For those of you who wanted more challenge in the game, there is a new speedrun mode. This mode times your play-through but also speeds up the platform movements as long as you can keep up.
This mode is has a higher risk of being uncomfortable, causing motion sickness, and falling over, so engage on your own risk.
Each time you take a perfectly timed step onto a new platform, the game will speed things up a little bit.
Each time you miss an opportunity to step onto a new platform, the game will slow things down a little bit. (This can occasionally happen through no fault of your own.)
When you die, the speed is reset, so it's recommended to keep to a speed you can handle in order to not lose momentum in your speedrun. You can avoid speeding thing further up by taking steps in a slightly slower way.
I do not recommend this mode to people who haven't already played through the game at least once, so in the final game I'll probably only unlock the speedrun mode by completing the game.
How to use: For now though, you start a speed run by first starting a new game, and then press Shift+R on the keyboard.
Experimental spectator camera
The gameplay in Eye of the Temple can be hard to get an impression of for others by looking out in first person. I've experimented with an alternative camera angle shown on the monitor that shows the action from 3rd person perspective.
How to use: Activate/toggle 3rd person spectator camera by pressing X on the keyboard.
This view requires extra resources from your computer, so if you get performance problems, turn it off.
What do you think of 3rd person spectator camera? Is it something you might use for streaming, videos, or for people watching you play? It's still a bit buggy and has room for improvement, but I'm curious what you think of the overall idea.
Read More »